Germany
Germany
I know what you are all going to say now, German food……wait for it! Bratwurst!
Well, I have lived in Germany for many years now and they do eat alot of brats and there is a stand selling them on practically every corner, but I am impressed with some of the food I have tried here and it's not all bratwurst!
There have also been some dodgy things that they eat in the countryside, but all in all I would say, take away pastry and the German cuisine is similar to the British. They love sausage or bratwurst and these are regional, they eat potatoes and cabbage and they like big lumps of meat. However, unlike the British with our roast beef or leg of lamb, the Germans will have a whole leg of lamb to themselves, the same with a joint of pork. These would be served up with dumplings and a gravy.
Certain things go together for example you wouldn't just have Sauerkraut with anything nor red cabbage. Red cabbage is reserved for roast duck or goose for example and sauerkraut will go with the pork or with some sausage. But I think the Germans go for a bit more of a sour taste than us. Although we do use pickles and chutney's which the Germans don't.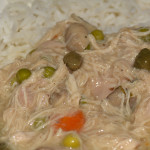 Hühnerfrikassee
Now traditionally fricassée is a French method of cooking, where the meat is cut into pieces and sautéed but not browned and then cooked in a white sauce. according to Larousse Gastronomique (if you don't have a copy then well worth the investent as this IS the BIBLE of cooking) all sorts of meats were used…
read more…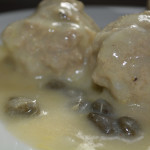 Königsberg Klopse
Soak the bread rolls in water for about 10 minutes or so. Peel and chpop or grate the onion. After the bread has soaked squeeze out all the liquid and add it to the minced meat. Add the onion and the egg and mustard, some salt and pepper and mix well. In a pot bring the vegetable broth to a boil then…
read more…