Grill
Grilling and chilling! My favourite!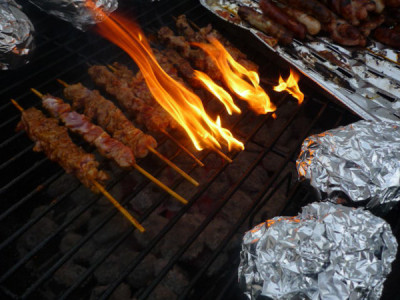 This has got to be my favourite way of cooking and I just love the summer when I get the grill fired up, chuck on some meat, knock up a salad and chill with some cold beers or a nice wine. Love it!
Of course grillin ain't just for the summer. I know people that grill all year round, they even sweep the snow off the barbie and fire her up! I would too if I had more enthusiasm from those around me, but they consider grilling is best done in summer when you can sit outside in the warm and enjoy it. To a point I agree with that too and of course it makes grillin more special.
As I am one for special occassions I try and have at least one grill a week in the summer. But in my house it always seems to end up in a feast. My father-in-law wants pork nacken steaks (this is a cheap cut of pork from the neck in Germany) my mother-in-law always wants a certain type of sausage, then sausage (schnecken) snails for the boys, some chicken for the wife and some other type of sausage and an entrecote for me. Of course the sausage for m-i-l comes in a pack of 6 then f-i-l wants another type of sausage to go with his bit of pig meat and these of course come in a pack of 4 and I have to grill them all and wifey's request has 6 sausages in the pack and 2 bits of chicken. So before you know it we have like 20 sausages of various shapes and sizes and about 7 bits of meat! Of course you can buy individual bits of meat and sausage but not what they want.
This year I have decided to theme grill events. I did last year when the in-laws were out, but this year they will eat what I grill and prepare and thats that!
Of course I don't do things by half. With the grilled meat we have a salad, then baked potatoes or boiled potatoes skin on rolled in sea salt and butter, garlic bread and usually some grilled veg such as med veg or grilled corn and shrooms. I usually do the veg in foil bags on the grill and then grill them a bit to finish. Sometimes I stuff the mushrooms with cheese and grill them. Then of course we might have a starter. I usually make a salsa to go with tortilla chips or hummus and Pita, not to mention the drinks. I may make a jug of Pimms or my own version of Sangria! Kick ass!!
Check out out some of my fave grill recipes. They will include everything grillin from marinades, salad dressings and sides and most importantly the meat!
Enjoy!