It's almost a week into the World Cup now and as usual Germany, with their squad of well organised, disciplined and extremely unegoistic players are proving yet again that super star status means absolutely nothing in todays European football scene! It saddens me that my national team, England, always seem to lack what the Germans have when it comes to International tournaments.
I feel a bit sorry for my eldest son Henry as he is so patriotic towards England, mainly I feel in support of his Daddy and of course he thinks that he was born there too, but he is surrounded by all his German friends celebrating a brilliant footballing team as I finish the dregs of my ale and once again utter the words, well there is always next time! I am glad though that I have had a World Cup win in my life time, 1966, but somehow how I feel my poor son won't! Unless of course he adopts his home country as his national football team!
As for the stickers, well, this is our first time collecting "Panini's and I thought it would be good for Henry especially with the fact that most of his friends are playing football and in clubs already whereas he has his swimming and piano lessons and there is a playground frenzy first thing in the morning when the kids swap the doubles that they received the day before. I make sure Henry gets a pack or two a day so that he has new stickers to swap the next. It is getting to be quite an expensive hobby and a lucrative business for some as this article suggests and his sticker book is only half full. But the stickers are fun and I'm enjoying it too as I have a second book that I collect for Oscar my youngest son…of course they're for Oscar!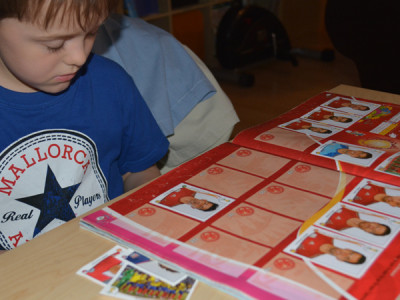 What has this got to do with food you might say? Well, it is the beginning of grill season in Germany and in my neighbourhood, the smell of hot coals and grilling meat wafts through the warm air which is an encouragement to fire up the barbie and as the World Cup is also on the atmosphere is more jovial and of course as Brazil is famous for it's grilled meat the supermarkets are selling ready marinaded packs of meat with names such as "Gaucho", "Rio" and "Samba"! It's one way of getting rid of that old meat that didn't sell and let's face it ideal for that spur of the moment grill party. I will no doubt be having a few Caipies myself over the weekend, but when a drink is made from almost pure alcohol, limes and sugar it can be a bit dangerous and I am keeping the calorie intake down at the moment ready for my summer holiday!
Come on England!